Reverberations Singles
New Eyes
Shiny Shiny Black
We began work on this album a few years ago - and it began coming to fruition as we raised funds last December via our Reverberations Kickstarter. Many friends helped us arrive to this moment, and the record is here! 

We are thankful to be doing this work. At the heart of this art-making, we make something out of nothing. We are making meaning, we are making musical moments. What we'd like you to receive is something quite beautiful and ordinary, like a whisper. It's like light falling in through the window, it's an electric shiver down your spine, it's the feeling of being covered in a blanket and knowing you can rest, like waking up with all the energy you need to take on that day's challenges. Join us in entering into the music, let it meet you in the moment you are in. Thank you for considering supporting this work, it's wonderful being part of something larger we can all believe in. Let's keep going.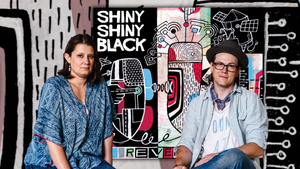 Reverberations Arrives June 2!